Dental Implants | Dentist Seattle
We are award-winning, locally known as the Best Dentists in Seattle
What is a Dental Implant?
Usually a dental implant is a piece of titanium screw that will replace the root portion of your missing tooth. It fuses with your tooth bone, and it becomes a proper anchor for the replacement tooth. Dental implants is good solutions for replacing single or multiple missing teeth.
Why Replace Missing Tooth?
If you have a missing tooth, the biting forces usually change on your adjacent teeth and eventually they'll shift to the empty space, and any opposing teeth may extrude out of the socket, so they could be lost.
Because your tooth is missing, it gets more difficult to chew, and it may cause any damage to your jaw joint. In addition, plaque and tartar will be accumulated and it may cause any periodontal disease, such as irritated and inflamed gum, also known as gingivitis.
A dental implant is stable and comfortable, and it will not require any additional adjustment after the placement. And it lasts for a number of years.
Benefits of Implants
A dental implant acts just like your natural teeth, and it fits firmly so that you will not feel uncomfortable at all when you chew and speak. Unlike dental bridges, dental implants don't require to shape the adjacent teeth, so their strength and intergrety is still maintained.
Course of Treatment | Single Tooth
BEFORE THE PROCEDURE
Our dentists will thoroughly examine your teeth and take any necessary x-rays of the area to prepare for the dental implant.
INSTALLING THE IMPLANT
The implant is placed into the bone, and we cover the implant with a protective healing cap so that it can heal securely.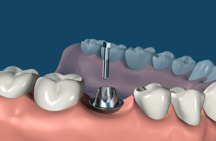 ATTACHING THE NEW CROWN
Once the implant is healed and placed firmly, we attach the abutment to the implant. It can be adjusted and shaped to allow the replacement tooth.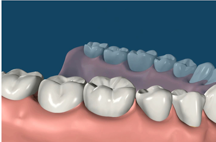 END RESULT
After the abutment is attached, we affix the crown to the abutment. The crown is crafted in our lab and it matches your other natural teeth. Your dental implant is now complete, and your new tooth will function just like your natural tooth.
Course of Treatment | Multiple Teeth

When you have three or more teeth that are missing, the best possible option is to install a fixed bridge. It will contain all teeth in one piece and anchored on dental implants.
BEFORE THE PROCEDURE
Three teeth at back end of the mouth are missing. Our dentists will explain the treatment plan.
INSTALLING THE IMPLANT
Implants used to support a bridge are placed and allowed to surrounding bone in the same manner as a single tooth implant. After the appropriate healing time, healing abutments are placed on each implant to allow contouring of the tissue.
ATTACHING THE BRIDGE
When the implant is securely anchored in the bone, the healing abutments are removed and final abutments are attached to the implants. These function as the core of the replacement teeth that are attached directly to the implants.
END RESULT
The new bridge will handle all the pressure that your strong, natural back teeth did. You will have a stable and secure solution that allows you to eat what you want.
For more information about dental implants, please contact our
Seattle dentist office
today!
Schedule a Visit
What People Are Saying
See how our patients love us!
Come see us!
We are near the intersection of NW 85th St. and 14th Ave NW just down the block from Walgreens and Safeway. Parking is on the south side of building.
Office Hours
Mon: 8AM - 5PM
Tue: 8AM - 6PM
Wed: 8AM - 5PM

Thu: 8AM - 5PM
Fri: 8AM - 4PM
Sat & Sun: Closed



Dental Emergency?
If your tooth has been damaged or you are in pain, call
(206) 789-0111
immediately so that we can schedule your appointment and treat the issue as soon as possible.
Write a Review
Share your experience.
The highest compliment we could receive from our patients would be their reviews. Use the icons below to choose where you'd like to write your review. Rate your experience and write your review. It's easy to do, and you'll be helping other patients to make better informed decisions