Meet Our Dentists Seattle
We are award-winning, locally known as the Best Dentists in Seattle
Our
Seattle dentist
team has been focusing on natural and healthy smiles for the last 20 years. At Seattle Crown Hill Dental, our dentists always try to understand your dental needs and explain the entire dental procedure with the highest quality of care and state-of-the-art technology.
Dzon M. Nguyen,
DDS, MAGD, FICOI
General, Cosmetic, Implant & Invisalign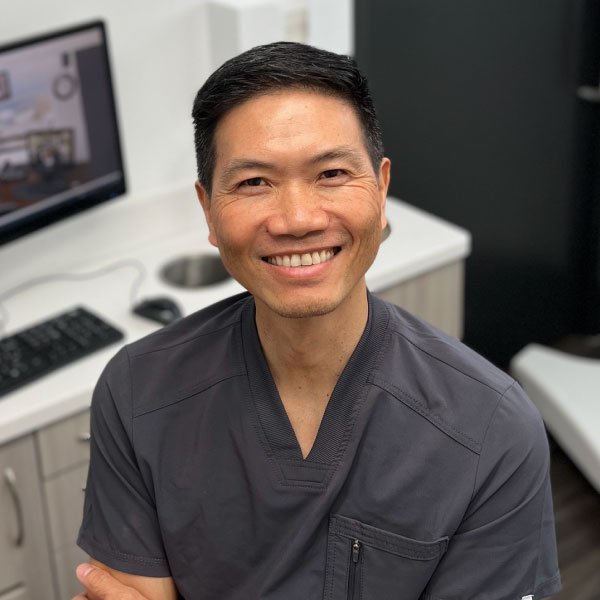 Dr. Nguyen is an expert at taking care of his patients. He loves his work and is determined to make each patient raving fans.
His goal is to provide quality services for his patients to achieve long term good dental health. He believes healthy and beautiful smiles can be possible with regularly scheduled appointments and proper preventive dental care. Dr. Nguyen is trained in the most advanced techniques. Dr. Nguyen features CEREC CAD/CAM porcelain crowns in one appointment. He is both a beta tester for this amazing technology and an instructor for certifying new doctors as well as teaching advance certification. Dr. Nguyen continues to advance our available care by providing dental implant surgery and restoration here in our office. He was one of the first general dentists in Washington State to be certified with Invisalign. He was awarded the "Invisalign Innovator" award in 2003, "Top 100 Invisalign Dentist in the Country" in 2002-4, and is the first general dentist to be awarded Premier Status with Invisalign. Previous to this, he had completed a two year orthodontic course sponsored by the Academy of General Practice Orthodontics.
Dr. Nguyen holds a Mastership in the Academy of General Dentistry (MAGD) representing the highest honors a members can achieve. This requires 1100 hours of CE credits with 400 hours of it being participating. These designations are awarded for completion of the most rigorous continuing dental education programs. He has also been awarded the distinction of Fellowship in the International Congress of Oral Implantologist (FICOI). The ICOI is a worldwide organization of leading dental implantologists. Dr. Nguyen was awarded the honor of Fellow by demonstrating his advanced knowledge and surgical ability in implant dentistry.
Dr. Dzon Nguyen enjoys all facets of dentistry from preventative to the most complex dental cosmetic procedure. He received his Doctor of Dental Surgery at the University of Maryland in Baltimore. He is an active member of the Seattle King County Dental Society, The Washington State Dental Association, The American Dental Association, and The Academy of General Dentistry.  
He enjoys skiing, snowboarding, wake boarding, wake surfing road and mountain biking with his college sweetheart and their three girls.
Marissa Bender,
DMD, MBA, FICD, FACD, FAGD
General & Cosmetic Dentistry
Dr Marissa N. Bender received her first dental degree from the University of the East in the Philippines. She received her second dental degree from the University of Pennsylvania, Program for Advanced Standing Students in Philadelphia. After graduation, she returned to the Pacific Northwest and opened up a solo practice.
Dr. Bender believes in educating her patients so that they can make informed decisions about their care. She likes being a general dentist because she can provide comprehensive care including restoring smiles and alleviating pain. She has a gentle demeanor and genuinely cares about her patients' well-being. Her gentle-touch style of dentistry puts her patients at ease. She is thorough, yet conservative in her treatment approach, with an eye towards prevention. She is a strong advocate for healthy smiles through regularly scheduled maintenance visits.
Always seeking to improve her skills, Dr. Bender regularly attends continuing education classes. She has recently completed all the educational requirements for Fellowship to the Academy of General Dentistry. She is also very actively involved in organized dentistry and holds Leadership positions with the Washington State Dental Association, Snohomish County Dental Association and the American Dental Association. She strongly believes in giving back to the community and the profession by volunteering in dental missions, both locally and internationally. She is fluent in Spanish and Filipino.
In her spare time, she likes to solve sudoku and word puzzles. She also travels extensively.
Michelle Ament,
DDS
General, Cosmetic, Implant & Invisalign
Dr. Ament grew up in the city of Troy, Michigan, located about thirty minutes north of Detroit. She was accepted at the Lyman Briggs College of Natural Science at Michigan State University and graduated with a bachelor's degree in Nutritional Sciences, with honors. Then, she attended the University of Detroit Mercy School of Dentistry to obtain her D.D.S. degree. During her dental school education, Dr. Ament provided dental care to underserved communities in Haiti and locally in Detroit.
Upon completion of her dental degree, Dr. Ament was accepted into a dental residency program at St. Joseph Mercy Oakland Hospital, where she was one three dental residents. She gained advanced training in cosmetic dentistry, Invisalign, oral and periodontal surgery, implant, and root canal therapy, with focus on providing dental care to medically complex patients.
Dr. Ament worked in Michigan for several years in private practice and actively participated in local Spears and Seattle Study Clubs, as well as local dental societies. Through her Seattle Study group and visiting fellow classmates who had moved to Washington, Dr. Ament quickly realized this beautiful city was the right fit for her. The mountains, amazing food, and great people are just a few things that make Seattle home.
As a general dentist, Dr. Ament is proud to provide a range of care to her patient family. She is currently completing her Fellowship through the Academy of General Dentistry. Dr. Ament is an active member of the Washington State Dental Association and the American Dental Association. Her compassion and her enthusiasm towards exceptional dental care are just a few of her qualities that put patients at ease.
She enjoys providing long-term care to her patient family.
In her free time, Dr. Ament enjoys being outdoors; hiking, running, or kayaking with family and friends. She is also a huge Michigan State Spartans fan; football season and the NCAA tournament are her favorite times of the year. She also loves the seafood in the Pacific Northwest and enjoys exploring new restaurants in the area.
Landon King,
DDS
Dr. Landon King received his dental degree from the University of Washington School of Dentistry. Before dental school he graduated with Magna Cum Laude from Washington State University with a degree in Biology as well as being enrolled in the Honors College. During his time in dental school, he was a representative for the Washington Academy of General Dentistry as well as taking Honors classes in Endodontics. Dr. King always has his patient's interest at heart and truly enjoys what he does to help his patients have a fantastic experience. He is a very detail oriented person and loves the creative process behind a smile transformation.
After graduating from dental school, Dr. King moved to the Vancouver, Washington area where he worked in private practice while being an active member of the Seattle King County Dental Society, the Washington State Dental Association and the American Dental Association. Dr. King has also taken extensive hours in Continuing Education to become certified in Invisalign. After a few years in the Portland area, Dr. King missed the Seattle area and quickly moved back and found his home at Crown Hill Dental.
Dr. King is a huge fan of ice hockey and played it growing up. He is also an avid hiker and will routinely find himself outdoors looking for the next trail to hike. When he is not hiking you can find him jogging and cycling.
Kristopher Sophiea,
DDS
Attended the University of Michigan to obtain a BS in Brain Behavior and Cognition. He continued his studies at U of M School of Dentistry to complete his D.D.S. in 2010. Following graduation, Dr. Sophiea moved to the Pacific Northwest and practiced general dentistry in Redmond, WA for four years. He then moved to San Francisco to pursue a Postgraduate Endodontics Program at the University of California, San Francisco. In between his studies, Dr. Sophiea has spent his time participating in global volunteer programs and developing his travel photography skills. In his free time around Seattle he enjoys skiing, climbing and trail running.
What People Are Saying
See how our patients love us!
Come see us!
We are near the intersection of NW 85th St. and 14th Ave NW just down the block from Walgreens and Safeway. Parking is on the south side of building.
Office Hours
Mon: 8AM - 5PM
Tue: 8AM - 6PM
Wed: 8AM - 5PM

Thu: 8AM - 5PM
Fri: 8AM - 4PM
Sat & Sun: Closed



Dental Emergency?
If your tooth has been damaged or you are in pain, call
(206) 789-0111
immediately so that we can schedule your appointment and treat the issue as soon as possible.
Write a Review
Share your experience.
The highest compliment we could receive from our patients would be their reviews. Use the icons below to choose where you'd like to write your review. Rate your experience and write your review. It's easy to do, and you'll be helping other patients to make better informed decisions