Meet Our Dentists Seattle
We are award-winning, locally known as the Best Dentists in Seattle
Our Seattle dentist team has been focusing on natural and healthy smiles for the last 20 years. At Seattle Crown Hill Dental, our dentists always try to understand your dental needs and explain the entire dental procedure with the highest quality of care and state-of-the-art technology.
Dzon M. Nguyen,
DDS., MAGD., FICOI.
General Dentistry, Master, Academy of General Dentist, Fellow, International Congress of Oral Implantologist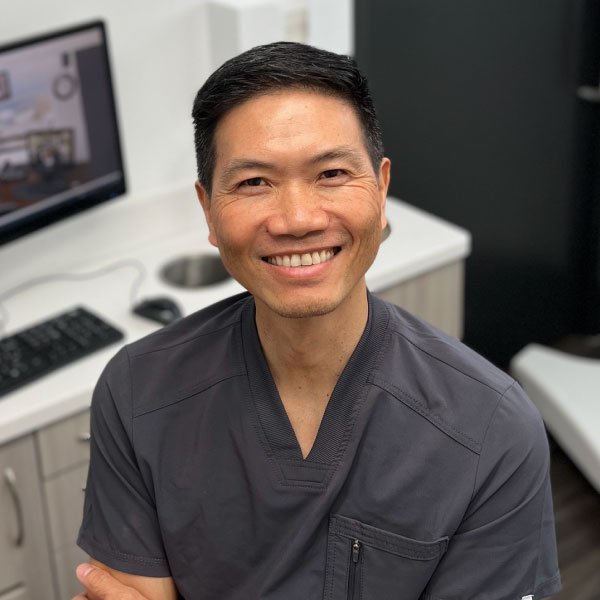 Dr. Nguyen is an expert at taking care of his patients. He loves his work and is determined to make each patient raving fans.
His goal is to provide quality services for his patients to achieve long term good dental health. He believes healthy and beautiful smiles can be possible with regularly scheduled appointments and proper preventive dental care. Dr. Nguyen is trained in the most advanced techniques. Dr. Nguyen features CEREC CAD/CAM porcelain crowns in one appointment. He is both a beta tester for this amazing technology and an instructor for certifying new doctors as well as teaching advance certification. Dr. Nguyen continues to advance our available care by providing dental implant surgery and restoration here in our office. He was one of the first general dentists in Washington State to be certified with Invisalign. He was awarded the "Invisalign Innovator" award in 2003, "Top 100 Invisalign Dentist in the Country" in 2002-4, and is the first general dentist to be awarded Premier Status with Invisalign. Previous to this, he had completed a two year orthodontic course sponsored by the Academy of General Practice Orthodontics.
Dr. Nguyen holds a Mastership in the Academy of General Dentistry (MAGD) representing the highest honors a members can achieve. This requires 1100 hours of CE credits with 400 hours of it being participating. These designations are awarded for completion of the most rigorous continuing dental education programs. He has also been awarded the distinction of Fellowship in the International Congress of Oral Implantologist (FICOI). The ICOI is a worldwide organization of leading dental implantologists. Dr. Nguyen was awarded the honor of Fellow by demonstrating his advanced knowledge and surgical ability in implant dentistry.
Dr. Dzon Nguyen enjoys all facets of dentistry from preventative to the most complex dental cosmetic procedure. He received his Doctor of Dental Surgery at the University of Maryland in Baltimore. He is an active member of the Seattle King County Dental Society, The Washington State Dental Association, The American Dental Association, and The Academy of General Dentistry.  
He enjoys skiing, snowboarding, wake boarding, wake surfing road and mountain biking with his college sweetheart and their three girls.
Katherine Dubois,
DMD.
Orthodontics, General, and Cosmetic Dentistry
Dr Dubois grew up in historic New Bedford, MA, about an hour South of Boston. She attended Boston University and acquired dual degrees in Philosophy and Biology. She then attended Tufts University School of Dental Medicine to obtain her D.M.D..After finishing dental school she completed a General Practice Residency at the University of Washington where she honed her existing skills and expanded her scope.
After residency Dr. Dubois moved to Wrangell, Alaska as the only dentist in a small island community. After a year of public service she felt the pull of the beautiful city of Seattle and returned to settle here. Since returning to Seattle she has immersed herself in continuing education across many areas of general dentistry including management of the fearful patient or medically complex patient, root canal treatment, implant placement and restoration, and even forensic dentistry.
Dr. Dubois enjoys the ability of a General Dentist to provide a wide range of care including restorative dentistry, oral surgery and root canals. She takes pride in her ability to help others feel comfortable at the dentist and believes that one of the major perks of her career is making long term relationships with patients.
In her spare time Dr. Dubois loves all things food, including home cooking as much as she can from scratch, and visiting the many wonderful local restaurants here in the NW. She also enjoys reading, travelling and especially spending time with her giant Great Dane at home or on walks by Lake Washington.
Karim Banani,
DDS.
Denture, General, Cosmetic, and Implant Dentistry
Dr. Banani grew up in Federal Way, WA and attended the University of Washington where he received dual degrees in Microbiology and Biochemistry. He continued at the University of Washington, where he received his degree of Doctor of Dental Surgery, and was presented awards from the Academy of Dentistry for Persons with Disabilities, Academy of Gold Foil Operators and the Dental Practice Administration Award.
He received a two year fellowship from the University of Washington in treating patients with developmental and physical disabilities and children. Dr. Banani is dedicated to serving the community through his volunteer efforts in programs such as "Smiles for Veterans", "Medical Teams International", "Sealant Day" for at risk youth and "Remote Area Medical". He has also been appointed as a faculty member at the University of Washington School of Dentistry where he is involved in the training of pre-doctoral students.
It is my mission in dentistry to change the way that people feel about visiting the dentist. Whether it is for your regular cleaning appointment or you have a toothache, it's important to me, that my team and I do our VERY best to make your visit a comfortable and memorable experience.
Dr. Banani couldn't stay out of the classroom after Dental school; he is actively continuing his education to learn the newest techniques and research as well as working towards obtaining his Fellowship and Masters from the Academy of General Dentistry, all so that he can continuously strive in improving, enhancing, and customizing each patient experience.
Beyond his passion of treating patients, Dr. Banani enjoys spending time with his very supportive family and friends. He is an enthusiast of all that the Pacific Northwest has to offer and enjoys hiking and the outdoors, cooking, and most of all supporting Superbowl Champions! Go Seahawks!
Dr. Banani enjoys learning new languages; he is Fluent in Hindi and Urdu and working on re-learning both Spanish and Mandarin.
What People Are Saying
See how our patients love us!
Dr. Nguyen met with me to go over the images and the status of my teeth and his treatment plan. He was very kind and put me at ease with his demeanor and delivery. I feel in very good hands. Nice work!
I love Dr. Nguyen- he is an amazing and caring doctor, and person. It's never fun getting dental work done, but he does his best to make you comfortable.
My 30 year old filling was replaced with a CEREC crown. Crown Hill Dental did a great job. The office is clean and pleasant. The staff are knowledgeable and ready to address any questions and concerns.
My visit was very pleasant and professional. Considering how afraid I am, I continue to come here because of the gentle treatment I receive with needle free sedation. I was informed of each step taken which I also enjoy. This is the best dental office in Seattle and I tell others this often. Thank you!
They also have killer technology for imaging, modeling and fabricating beautiful crowns on-site, so you can get fit THAT DAY if needed. I've been a few times now and the staff always knows my name and gets me going right on time, the support DA's are super nice and my new smile is much better feeling and looking than it was before.
I have been a patient for more than 20 years. Always professional, always on time. They never scold me for not flossing enough (ahem), instead they gently offer suggestions on how I can better care for my mouth.
I'm very happy with the service the hygienists provide and plan to keep coming back. 5 extra stars to the Polish hygienist; she's awesome and super friendly and takes the stress away from having someone poking around in your mouth.
It was actually the most comfortable dental experience I've ever had. The staff takes time to talk to the patients and let's you know what's going on while they do the work. I'd recommend this place to everyone! Great experience.
When I first started going to Crown Hill Dental, I had the mouth of a hobo. They have helped me get back on track! They are very organized, do great work and are friendly.
Come see us!
We are near the intersection of NW 85th St. and 14th Ave NW just down the block from Walgreens and Safeway. Parking is on the south side of building.
Office Hours
Mon: 8AM - 5PM
Tue: 8AM - 6PM
Wed: 8AM - 5PM

Thu: 8AM - 5PM
Fri: 8AM - 4PM
Sat & Sun: Closed



Dental Emergency?
If your tooth has been damaged or you are in pain, call
(206) 789-0111
immediately so that we can schedule your appointment and treat the issue as soon as possible.
Write a Review
Share your experience.
The highest compliment we could receive from our patients would be their reviews. Use the icons below to choose where you'd like to write your review. Rate your experience and write your review. It's easy to do, and you'll be helping other patients to make better informed decisions